I've always been the kind of person that couldn't just like something, they became obsessed with it. From TV shows (like Charmed) to social media sites (like Pinterest) I was all or nothing; and that's kind of continued. So today, I'm sharing with you, my latest obsession, Superheroes.
Now I'm not talking comic books and figurines, I'm talking TV shows (of course!). Having a boyfriend obsessed with the Marvel and DC universes meant I was taken to the cinema to see new releases of Iron Man and Captain America, and I must admit I enjoyed them. I then saw an advert for 'Arrow' and thought it was a Robin Hood spin off so asked him if we could watch it. Of course he said yes, but that's because it's actually based on the Green Arrow superhero.
Now, whilst I admit I was at first captivated by the drool worthy male leads, I've actually found I love the show. It has action, a bit of romance and it's totally kick ass. I get excited to watch it, learn the new plot twists and end up wanting to learn self-defense after. When the creators made another series called The Flash I was genuinely excited and I'm seriously enjoying that too. Especially as it's a bit more lighthearted than Arrow.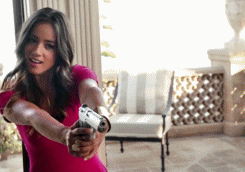 So then I decided I'd catch up on all the Marvel films, and loved it, a lot. To me Marvel has the right balance between bit of comedy and cool kick ass fights. DC films to me are just a bit too dark. I think it helps that Marvel is owned by Disney. This then led me to watching all of Marvel's Agents of S.H.I.E.L.D over my Christmas break. 32 episodes in 8 days, yes it was that good. My obsession was strong. The women in it were fierce, like seriously bad ass. They made me want to go out and buy a black v-neck top so I could wear it with black jeans and harness their coolness. Again, the right level of action vs humor.
And now there is Agent Carter, which again is a bad ass woman kicking bum.
I never in a million years thought I'd be this into superheroes, and whilst I still can't get my head around comic books and won't be dabbling in cosplay anytime soon, I definitely think I've found my new favourite genre. (I'm still watching Gossip Girl & Gilmore Girls on the side though, & Scandal!)
If you haven't checked out any of these shows and need either a) someone to drool over or b) a show to make you feel empowered; get watching.


Fatty Wants a Biscuit
gif source