A while ago I was sent an email asking if I would like to review the Anastasia Lash Genius (I felt very blogy when I read that email haha,) and after reading Amelia's review
here
, I decided to say yes, as I it had intrigued me ever since reading it.
Firstly it came with a really cool book, which made me laugh , and I thought it was a really nice touch, here are a few of the pictures.
Now I don't really need waterproof mascara. I don't swim often (or wear make-up when I do) and I don't go on holiday abroad often enough to need one for pools etc. But I was interested to see if this worked for the longevity of a product! First of all though, I thought I should test the waterproof claim. To do this I put mascara on both of my lashes, and only one one set the Lash Genius. I then took a damp cotton pad and wiped my eyes with it.
Lash Genius//Just Mascara
As you can see the Lash Genius did actually smudge more on my face, however on the pad there was hardly any product compared to the just mascara eye, the smudged mascara however stayed put on my face until I used proper make-up remover. And trying to get it off, was really tough, maybe it was just the force of my hand?
I then decided to test it after a shower, as you can see, I had no smudging, which was a plus, but I definitely lost my mascara look.
To be honest, neither of that bothered me, but it is something to think of if that is why you would like it.
The way it made my mascara last though, was something I was pleasantly surprised with. It didn't change how my mascara looked, but my goodness, it helped keep my mascara on.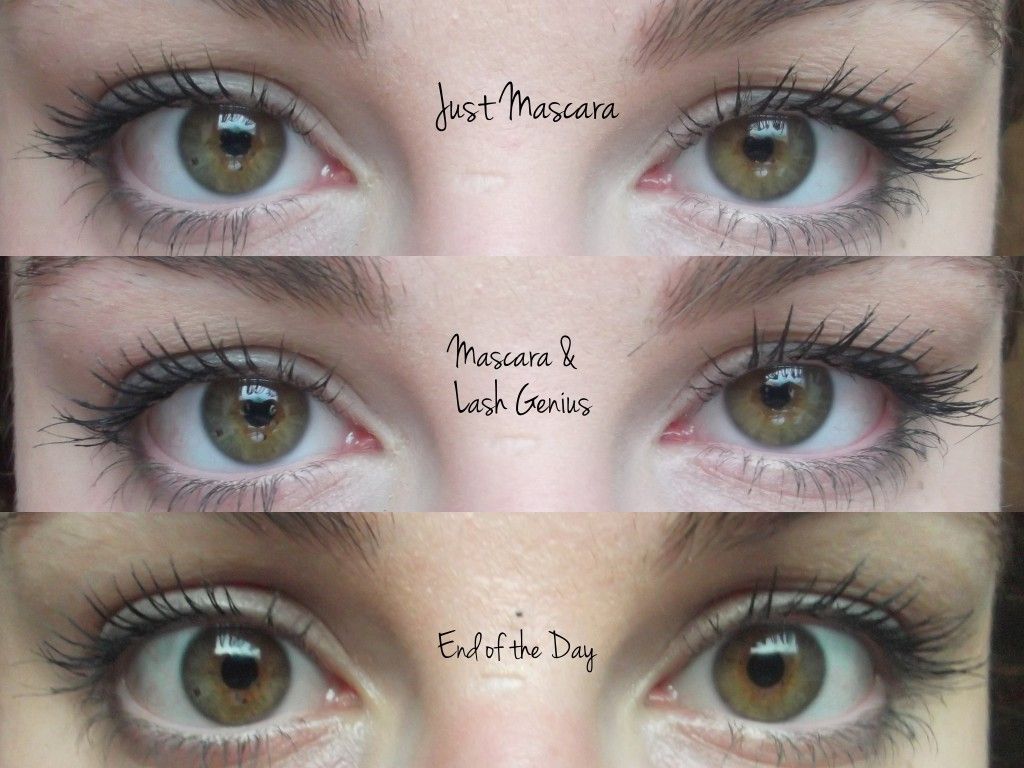 As you can see the mascara lasted so much longer, and stayed exactly the same whilst it was on, which I found super impressive. I put the mascara on at about half past eight in the morning and took it off at around nine in the evening. I didn't however, put any on my lower lashes, and they had definitely faded. Which shows it's a really great product for helping my mascara last.
I also tested this out on my eyebrows, and my eyebrows stayed in place and looked nice and full all day.
Overall, I really like this product, I think to buy it would be if I had a job that required long hours and I wanted my mascara to last. With this I'm going to save it for special occasions such as nights out, or the odd days when I need my mascara to last. I would also recommend it if you have oily lids and mascara always smudges, and your favourite mascara does not come in waterproof, this makes it perfect for summer!
You can it from
here
for either £7.50 or £14.
What do you think? Do you use this product?
Laura xoxo
*This product was given to me free for consideration, I am under no obligation to blog about it, and all opinions and thoughts are my own. I would never be anything but honest, as aside from the fact that it is obvious when people lie, I believe that, through my blog I have gained your trust, and would not want to ruin that for free products. I accepted this product as it was something, that I myself had seen and wanted to try, not just to gain a free product.
I am not being paid for this review.